Red Hen Press in New York City
Make sure to check out some of Red Hen Press' upcoming events in New York City during Fall 2018. These events are featuring many of our Red Hen Press authors, quite a number of which have upcoming books, so don't miss it!
Nuyorican Poets Cafe – March 21, 2019 at TBD
Nuyorican Poets Cafe
236 E. 3rd Street
New York, NY 10009
About the authors:
Rachel Cline, author of the novels What to Keep and My Liar, has written for the New York Times, New York, More, SELF, and Tin House magazines, and is a produced screen and television writer. For five years, she was a screenwriting instructor at the University of Southern California and has taught fiction writing at New York University, Eugene Lang College, and Sarah Lawrence College. She has been a resident at Yaddo, a fellow at Sewanee, and a Girls Write Now mentor. She lives in Brooklyn Heights, a few blocks from where she grew up.
Dennis Must is the author of two novels: The World's Smallest Bible (Red Hen Press, March 2014) and Hush Now, Don't Explain (Coffeetown Press, October 2014); plus three short story collections: Going Dark (Coffeetown Press 2016), Oh, Don't Ask Why (Red Hen Press 2007), and Banjo Grease (Creative Arts Book Company, 2000). He won the 2014 Dactyl Foundation Literary Fiction Award for Hush Now, Don't Explain, and The World's Smallest Bible was a 2014 USA Best Book Award Finalist in the Literary Fiction category. His plays have been produced off-off-Broadway and he has been published in numerous anthologies and literary journals. He resides with his wife in Salem, Massachusetts.
Poet's House – March 23rd, 2019 at 4:00pm
Poets House
10 River Terrace
New York, NY 10282
About the Authors:

Eloise Klein Healy is the author of seven books of poetry, most recently A Wild Surmise: New & Selected Poems & Recordings (Red Hen Press, 2013) and forthcoming Another Phase (Red Hen Press, 2018). She was the founding chair of the MFA in Creative Writing Program at Antioch University Los Angeles where she is Distinguished Professor of Creative Writing Emerita. Healy directed the Women's Studies Program at California State University Northridge and taught in the Feminist Studio Workshop at The Woman's Building in Los Angeles. She is the founding editor of Arktoi Books, an imprint of Red Hen Press specializing in the work of lesbian authors. In December 2012, she was appointed the first Poet Laureate of the City of Los Angeles.

Amber Flora Thomas is the author of two collections of poems: EYE OF WATER, selected by Harryette Mullen as the winner of the 2004 Cave Canem Poetry Prize, and THE RABBITS COULD SING, selected by Peggy Shumaker for the Alaska Literary Series in 2011. A recipient of the Dylan Thomas American Poet Prize, Richard Peterson Prize, and Ann Stanford Prize, her poetry has appeared in Callaloo, Orion Magazine, Alaska Quarterly Review, Saranac Review, and Crab Orchard Review, as well as Angles of Ascent: A Norton Anthology of Contemporary African American Poetry and numerous other journals and anthologies. She is a Cave Canem Fellow and faculty member. She received her MFA from Washington University in St. Louis in 1998. She was born and raised in northern California. Currently, she is an Associate Professor of Creative Writing at East Carolina University.

Maurya Simon is the author of nine acclaimed volumes of poetry. In the spring of 2018, Red Hen Press issued her tenth book, The Wilderness: New & Selected Poems, 1980–2016. Simon's poem's have appeared in scores of literary anthologies and in hundreds of distinguished literary magazines across the country. She has received numerous national awards, including an Indo/American Fulbright Fellowship (for a six month–long residency in Bangalore, South India), a National Endowment for the Arts Fellowship in Poetry, and two distinguished prizes from the Poetry Society of America. Simon has also twice served as a Visiting Artist at the American Academy in Rome. She has given poetry readings throughout the US and in Europe and India. Maurya Simon taught college-level literature and creative writing for thirty years, and she is currently a Professor Emerita in Creative Writing, and a Professor of the Graduate Division at the University of California, Riverside. She lives with her husband in the Angeles National Forest in the San Gabriel Mountains.

Writer/naturalist Elizabeth Bradfield is the author of the poetry collections Once Removed, Approaching Ice, Interpretive Work, and Toward Antarctica. Her poems and essays have appeared in The New Yorker, West Branch, Poetry, The Atlantic Monthly, Orion and elsewhere. Winner of the Audre Lorde Prize from the Publishing Triangle, finalist for a Lambda Literary Award and the James Laughlin Award from the Academy of American Poets, her awards also include a Stegner Fellowship, a Bread Loaf Scholarship, and a residency at the Vermont Studio Center. Bradfield grew up in Tacoma, Washington, attended the University of Oregon, graduated from the University of Washington, and received her MFA from the University of Alaska, Anchorage. Founder and editor-in-chief of Broadsided Press and a contributing editor at the Alaska Quarterly Review, she lives on Cape Cod with her partner, works as a naturalist/guide locally as well as on expedition ships around the globe, and is Associate Professor and co-director of creative writing at Brandeis University. www.ebradfield.com
KGB Bar – March 24, 2019 at 7:00pm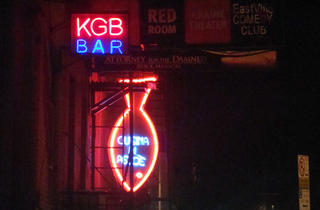 KGB Bar
85 E 4th St.
New York, NY 10003
About the Authors:
Dolores Hayden, award-winning poet and historian of American landscapes, engages the lives of daredevil pilots—women and men from the earliest years of aviation—in Exuberance, her third poetry collection. Hayden's poems have appeared in Poetry, the Common, Ecotone, Raritan, Shenandoah, the Yale Review, Southwest Review, Best American Poetry, and Poetry Daily. Author of American Yard (2004) and Nymph, Dun, and Spinner (2010), she's received awards from the Poetry Society of America and the New England Poetry Club, and residencies in poetry from Djerassi, the Virginia Center for the Creative Arts, and Noepe. Professor of Architecture and American Studies Emerita at Yale University, Hayden has also been a Guggenheim fellow and won an American Library Association Notable Book Award for nonfiction.
heidi andrea restrepo rhodes is a queer, sick/disabled, mixed-race, second-generation Colombian immigrant, poet, artist, scholar, & activist. Her first full-length collection "The Inheritance of Haunting" was chosen by Ada Limón for the 2018 Andrés Montoya Poetry Prize awarded by Letras Latinas, & will be published by University of Notre Dame Press in 2019. Her poetry has been published in As/Us, Pank, Raspa, Word Riot, Feminist Studies, Huizache, & Nat.Brut among other places. Currently a doctoral candidate in political theory at the Graduate Center, CUNY, she was raised in Southern California, and lives in Brooklyn. IG: @vessels.we.are
Matty Layne Glasgow is the author of the poetry collection deciduous qween, selected by Richard Blanco as the winner of the 2017 Benjamin Saltman Award and forthcoming from Red Hen Press in 2019. He was the runner-up for the Missouri Review's 2017 Jeffrey E. Smith Editors' Prize and finalist for Nimrod's 2018 Pablo Neruda Prize. His poems have been nominated for the Pushcart Prize and Best of the Net anthologies and appear in the Missouri Review, Crazyhorse, Collagist, BOAAT, Muzzle, and elsewhere. He lives in Houston, Texas where he teaches with Writers in the Schools and adjuncts his life away.
Jericho Brown is the recipient of fellowships from the Guggenheim Foundation, the Radcliffe Institute for Advanced Study at Harvard, and the National Endowment for the Arts. Brown's first book, Please (New Issues 2008), won the American Book Award. His second book, The New Testament (Copper Canyon 2014), won the Anisfield-Wolf Book Award. His third collection is The Tradition(Copper Canyon 2019). His poems have appeared in Buzzfeed, The New Republic, The New York Times, The New Yorker, The Paris Review, TIME magazine, Tin House, and several volumes of The Best American Poetry. He is an associate professor and the director of the Creative Writing Program at Emory University.