The Palm Trees are Restless: An Autumn Evening of Art, Song, and Poetry at Boston Court
The Palm Trees are Restless: An Autumn Evening of Art, Song, and Poetry at Boston Court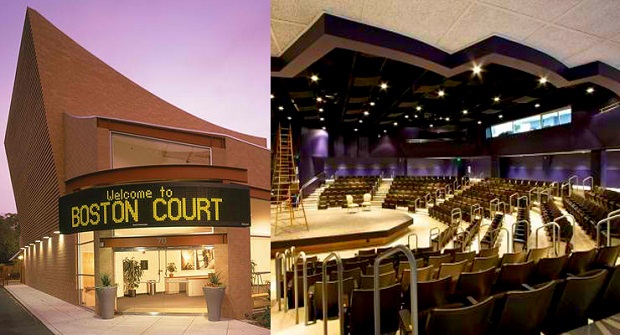 Grammy award-winning soprano Hila Plitmann performs the world premiere of Mark Abel's new, L.A.-centric song cycle set to texts by Kate Gale along with excerpts from David Del Tredici's "Miz Inez Sez," plus readings by poets from the Red Hen Press.
70 North Mentor Avenue
Pasadena, CA
Tickets (Regular/Senior/Student): $30/$25/$20
October 1, 2016 at 8:00 PM

About the artist and authors:
Grammy award-winning soprano Hila Plitmann regularly premieres works by today's leading composers. She has accomplished extensive soundtrack work on numerous Hollywood Blockbusters and has worked with today's leading conductors, with appearances as headliner for the New York Philharmonic, the Los Angeles Philharmonic, the London Symphony Orchestra, and numerous others. Born and raised in Jerusalem, Hila received both her Bachelor's and Master's of Music degrees, with high honors, from the Juilliard School of Music, and has been awarded the coveted Sony ES Prize for her outstanding contribution to the vocal arts.
Dr. Kate Gale is managing editor of Red Hen Press, editor of the Los Angeles Review, and president of the American Composers Forum, LA. She was the 2005-2006 president of PEN USA. She is author of five books of poetry: her most recent, Mating Season, from Tupelo Press; a novel, Lake of Fire; and Rio de Sangre, a libretto for an opera with composer Don Davis. Her current projects include a co-written libretto, Paradises Lost with Ursula K. LeGuin and composer Stephen Taylor, and a libretto adapted from Kindred by Octavia Butler with composer Billy Childs. She lives in Los Angeles with her husband and children. http://www.kategale.com/
Laurel Ann Bogen is the author of ten books of poetry and short fiction including Washing a Language; Fission; The Last Girl in the Land of the Butterflies; The Burning; Do Iguanas Dance, Under the Moonlight? and Rag Tag We Kiss. She was selected "Best Female Poet/Performer" by the L.A. Weekly in their Best of L.A. issue and a founding member of the acclaimed poetry performance troupe, Nearly Fatal Women. Bogen has read/performed in venues as diverse as Cornell University, The Savannah College of Art and Design, The Knitting Factory (NYC), The DA Center for the Arts, The Los Angeles Metropolitan Transit Authority, The Museum of Contemporary Art and LACE. The recipient of the Curtis Zahn Poetry Prize from the Pacificus Foundtion and two awards from the Academy of American Poets. http://laurelannbogen.com/
Brendan Constantine's work has appeared in Field, Ploughshares, Virginia Quarterly Review, Prairie Schooner and many other journals. He is the author of three previous collections: Letters to Guns (2009 Red Hen Press), Birthday Girl with Possum (2011 Write Bloody Publishing), and Calamity Joe (2012 Red Hen Press). He has received grants and commissions from the Getty Museum, James Irvine Foundation, and the National Endowment for the Arts. A popular performer, Brendan has presented his work throughout the U.S. and Europe, also appearing on National Public Radio, numerous podcasts, and YouTube. He lives and teaches in Los Angeles. http://www.brendanconstantine.com/
Tali Tadmor  is a Los Angeles-based pianist, music director and vocal coach. She has collaborated with prominent musicians such as choral composer Eric Whitacre, Metropolitan Opera Soprano Angela Meade, and Broadway legend Stephen Schwartz, and has performed extensively at venues around the globe including Carnegie Hall, Lincoln Center, and The Great Hall at the heart of China's Forbidden City. Recent projects include LA Opera's premiere production of Dulce Rosa, in which she served as Assistant Conductor to the company's General Director, Placido Domingo, and performances with the Los Angeles Master Chorale at the Walt Disney Concert Hall. Though classically trained, Tali is active in a wide variety of musical settings, ranging from world music, pop and worship, and her own compositions. Tali received both Master and Doctor of Musical Arts degrees from the University of Southern California (USC) majoring in Keyboard Collaborative Arts, as well as a B.Sc. degree in Applied Mathematics from UCLA. Tali is currently on faculty at the Herb Alpert School of Music at California Institute of the Arts (CalArts), and is the principal accompanist of the Los Robles Master Chorale.
Composer Mark Abel is known for his vocal music, with three releases on the Delos label that encompass art song, opera, an orchestral song cycle, and feature Los Angeles singers. The double-CD Home Is a Harbor was released this spring; it includes the three-act opera of the same name and the song cycle The Palm Trees Are Restless. Gramophone has called Harbor "an affecting experience," while Opera Lively praised Palm Trees as "very beautiful, with convincing, well-phrased vocal lines that are quite melodious and compelling."
David Del Tredici has long been a major figure among American composers, known most widely for his massive Lewis Carroll-based work Final Alice. The most idiosyncratic of Neo-Romantics, Del Tredici's music is intense and unpredictable. He has written numerous works on commission from such ensembles as the San Francisco Symphony, the New York Philharmonic and the Concertgebouw Orchestra, and in 1996 launched a spate of song-cycle writing that continues to this day. In recent years, Del Tredici has turned to chamber music with the goal of creating "a body of compositions that unambiguously celebrate the gay experience — happy, sad, horrible, or bizarre."
You can watch a video sampler of the cycle here: Mark Abel: The Palm Trees Are Restless
For more information regarding this event, please email publicity@redhen.org
Leave a Response