Make sure to check out some of Red Hen Press' upcoming events in New York City during Fall 2018. These events are featuring many of our Red Hen Press authors, quite a number of which have upcoming books, so don't miss it!
Bryant Park Reading Room – August 27 at 7:00pm
About the authors:
Matty Layne Glasgow is the author of the poetry collection deciduous qween, selected by Richard Blanco as the winner of the 2017 Benjamin Saltman Award and forthcoming from Red Hen Press in 2019. He was the runner-up for the Missouri Review's 2017 Jeffrey E. Smith Editors' Prize and finalist for Nimrod's 2018 Pablo Neruda Prize. His poems have been nominated for the Pushcart Prize and Best of the Net anthologies and appear in the Missouri Review, Crazyhorse, Collagist, BOAAT, Muzzle, and elsewhere. He lives in Houston, Texas where he teaches with Writers in the Schools and adjuncts his life away.




Jericho Brown is the recipient of fellowships from the Guggenheim Foundation, the Radcliffe Institute for Advanced Study at Harvard, and the National Endowment for the Arts. Brown's first book, Please (New Issues 2008), won the American Book Award. His second book, The New Testament (Copper Canyon 2014), won the Anisfield-Wolf Book Award. His third collection is The Tradition(Copper Canyon 2019). His poems have appeared in Buzzfeed, The New Republic, The New York Times, The New Yorker, The Paris Review, TIME magazine, Tin House, and several volumes of The Best American Poetry. He is an associate professor and the director of the Creative Writing Program at Emory University.




Mark Doty is the author of nine books of poetry, including Deep Lane (April 2015), Fire to Fire: New and Selected Poems, which won the 2008 National Book Award, and My Alexandria, winner of the Los Angeles Times Book Prize, the National Book Critics Circle Award, and the T.S. Eliot Prize in the UK. He is also the author of three memoirs: the New York Times-bestselling Dog Years, Firebird, and Heaven's Coast, as well as a book about craft and criticism, The Art of Description: World Into Word. Doty has received two NEA fellowships, Guggenheim and Rockefeller Foundation Fellowships, a Lila Wallace/Readers Digest Award, and the Witter Byner Prize.




Tom Sleigh is the author of the essay collection The Land Between Two Rivers and nine previous books of poetry, including Station Zed, Army Cats, and Space Walk, winner of the Kingsley Tufts Award. He teaches at Hunter College and lives in New York.






Francesca Bell's poems and translations appear in many journals, including B O D Y, Massachusetts Review, New Ohio Review, North American Review, Poetry Northwest, Prairie Schooner, and Rattle. She is the former poetry editor of River Styx, the translator of a collection of poems by Palestinian poet Shatha Abu Hnaish (Dar Fadaat, 2017), and the author of the collection Bright Stain (Red Hen Press, 2019).
Poet's House – September 14 at 4:00pm
Poets House
10 River Terrace
New York, NY 10282
About the Authors:
Francesca Bell's poems and translations appear in many journals, including B O D Y, Massachusetts Review, New Ohio Review, North American Review, Poetry Northwest, Prairie Schooner, and Rattle. She is the former poetry editor of River Styx, the translator of a collection of poems by Palestinian poet Shatha Abu Hnaish (Dar Fadaat, 2017), and the author of the collection Bright Stain (Red Hen Press, 2019).





Erica Jong is a celebrated poet, novelist & essayist with over twenty-five published books that have been influential all over the world. Her most popular novel, Fear of Flying, celebrated its 40th anniversary in 2013. Never out of print, it has sold over thirty-five million copies translated into over forty-five languages including Chinese and Arabic. Erica's latest novel, Fear of Dying, was published in 2015/2016 with many publishers all over the world. Her awards include the Fernanda Pivano Award for Literature in Italy (named for the critic who introduced Ernest Hemingway, Allen Ginsberg, and Erica Jong to the Italian public), the Sigmund Freud Award in Italy, the Deauville Literary Award in France, the United Nations Award for Excellence in Literature, and Poetry magazine's Bess Hokin Prize (also won by Sylvia Plath and W.S. Merwin). Erica's poetry has appeared in publications worldwide, including the New Yorker, the LA Times, the Paris Review, Haaretz, and many more. Erica lives in New York and Connecticut with her husband and two poodles.
Kim Dower grew up in New York City and received a BFA in Creative Writing from Emerson College, where she also taught before moving to Los Angeles. Former City Poet Laureate of West Hollywood, Kim has published four collections of poetry, all with Red Hen Press: Air Kissing on Mars, which was on the Poetry Foundation's Contemporary Best Sellers list and described by the Los Angeles Times as, "sensual and evocative . . . seamlessly combining humor and heartache," Slice of Moon, called "unexpected and sublime," by "O" magazine, Last Train to the Missing Planet, "poems that speak about the grey space between tragedy and tenderness, memory and loss, fragility and perseverance," said Richard Blanco, and her brand new Sunbathing on Tyrone Power's Grave, which Chris Kraus, author of I Love Dick, calls exuberant, sexy and sobering." Nominated for three Pushcart Prizes, Kim's work has been featured in Garrison Keillor's "The Writer's Almanac," and Ted Kooser's "American Life in Poetry," as well as in Ploughshares, Barrow Street, and Rattle. Her poems are included in several anthologies, notably, Wide Awake: Poets of Los Angeles and Beyond, (Beyond Baroque Books/Pacific Coast Poetry Series,) and Coiled Serpent: Poets Arising from the Cultural Quakes & Shifts of Los Angeles, (Tia Chucha Press.) She teaches Poetry and Memory in the B.A. Program of Antioch University. She is also the proud founder of Kim-from-L.A. a well-known literary marketing and publicity company that helps writers get their beautiful words out into the world.
KGB Bar – September 17 at 7:00pm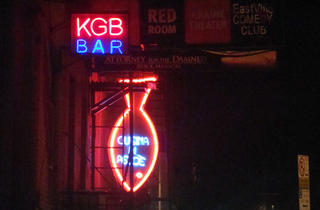 KGB Bar
85 E 4th St.
New York, NY 10003
About the Authors:
Against the Wind is Jim Tilley's debut novel. He has published three full-length collections of poetry and a short memoir, The Elegant Solution. His writing has appeared in top literary journals, including Ploughshares, Virginia Quarterly Review, Alaska Quarterly Review, and Southern Review. In 2008, he won Sycamore Review's Wabash Prize for Poetry. Jim earned a doctorate in physics from Harvard University. During his twenty-five-year career in insurance and investment banking, he wrote several prize-winning papers on finance and investments. He has recently published original mathematics research in various academic journals. He resides in Bedford Corners, New York.



Thuy Da Lam was born in Qui Nhơn, grew up in Philadelphia, and now lives in Honolulu, where she works on her next book and teaches at Kapi'olani Community College. She holds a BA in creative writing from Hamilton College and a PhD in English from UH Mānoa. She received the George A. Watrous Literary Prize for Fiction, a Myrle Clark Writing Award, and the John Young Scholarship in the Arts. Her debut novel, Fire Summer, is a revision of her dissertation, part of which appeared in Lost Lake Folk Opera in commemoration of the fortieth anniversary of the end of the Vietnam War.



Johanna Stoberock is the author of the novels Pigs and City of Ghosts. Her honors include the James W. Hall Prize for Fiction, an Artist Trust GAP award, and a Jack Straw Fellowship. In 2016 she was named runner-up for the Italo Calvino Prize for Fiction. Her work has appeared in the New York Times, the Best of the Net anthology, and Catamaran, among others. She lives in Walla Walla, Washington, where she teaches at Whitman College.
BGSQD – September 19 at 7:00pm
Bureau of General Services — Queer Division
208 W. 13th Street #210
New York, NY 10011
About the Authors:
David Brendan Hopes, whose novel The Falls of the Wyona was chosen for Red Hen Press's 2017 Quill Prize, is a poet, playwright, and painter living in Asheville, North Carolina. Originally from Ohio, Hopes taught at Hiram College, Syracuse University, Phillips Exeter Academy, and is now Professor of English at UNCA. His prize-winning plays have been produced in New York, Chicago, Los Angeles, Cincinnati, Seattle, and London, and his publications have been in venues as diverse as Audubon, the New Yorker, and Best American Poetry, 2016.




Jason Schneiderman is the author of four books of poems: Hold Me Tight (Red Hen Press 2020), Primary Source (Red Hen Press 2016), Striking Surface (Ashland Poetry Press 2010), and Sublimation Point (Four Way Books 2004). He edited the anthology Queer: A Reader for Writers (Oxford University Press 2016). His poetry and essays have appeared in American Poetry Review, The Best American Poetry, Poetry London, Grand Street, and The Penguin Book of the Sonnet. He is an Associate Professor of English at the Borough of Manhattan Community College, CUNY and lives in Brooklyn.



Chloe Schwenke is an openly transgender Quaker woman whose life's journey includes living in five countries and working on projects in more than 40, mostly in Africa and the Middle East. As a human rights and peace building activist, an international development practitioner, an academic, a former Obama Administration appointee, and the parent of two children, she has committed her life to assisting marginalized groups in some of the world's most challenging countries. In 2013 she received the National Center for Transgender Equality's National Public Service Award.